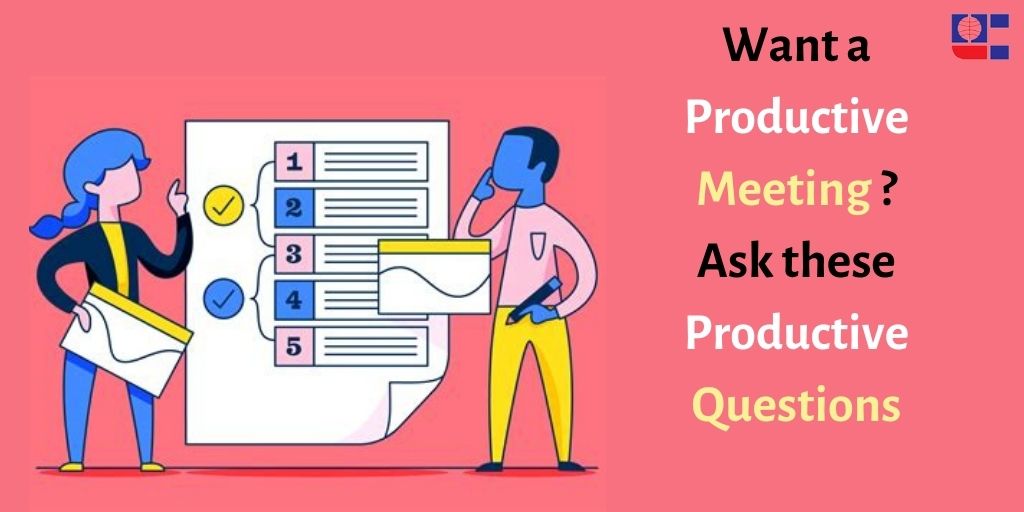 Picture this. A team-meeting where just one person is speaking, setting the agenda, explaining the tasks, and the others just nod their way through the meeting, only to realise much later that they aren't clear about a key concern.
Take this other scenario. Again, a team-meeting, and someone who isn't in a habit of conducting meetings is doing so now. A barrage of questions would overwhelm this new person, but just the right amount could potentially help them get a cue about how they are doing the job thus helping them ease into the meeting. It can also tell them how effectively have they communicated and what they can keep in mind in future meetings.
Asking questions is almost like an art. When asked at the right time, to the right person, in the right manner can lead to fruitful discussions, integration of unique perspectives leading to innovation, filling gaps and loopholes leading to the outcomes actually desired.
This art is seen in interviews, but it can also be utilised in meetings, brainstorming sessions and important decision-making discussions.
Let us take a look at some strategies to ask better questions so that team-meetings can actually include perspectives of team-members, and brainstorming sessions don't end up becoming storms to run away from!
The Nuance of 'Why':
Contrary to what is obvious, 'why' is actually not a question that can lead to many fruitful discussions; at least not always. Have we not had times when a sudden 'why' rendered us questioning the whole point of our agenda? It could often shut us down and demoralise.
As Amy Drader writes in a blog for growthpartnersconsulting.com, 'why' can actually make the person asked get defensive. It often requires them to look into the past and justify a key decision. Necessary at certain times, at other times, it can drive the discussion away from the solution and more to the problem itself.
So, asking a 'why' demands a lot more prudence about how one frames or phrases it.
Open-Ended:
The key then is to ask questions which elicit answers that lead one to think in a direction they might not have. To lead one to offer their perspective. To clarify, to specify. Because let us face it, speakers could forget key details in the rush to get done with the meeting, and thus the onus lies on the others listening to ask the right questions and get all the details clearly laid out.
Open-ended questions, generally but not always begin with a 'what', 'how' and sometimes 'who'. Some examples provided by the blog cited above include questions like:
How do we move forward?
What is the important thing to do here, and what is that can wait for later?
What do you think is the best option?
What are some things expected from us?
What can we expect this to achieve?
What are we trying to accomplish here?
What seems to be the best practice/alternative/strategy?
How has this been done in the past and how can we do it better?
Who are the key persons with what sort of roles in this?
What impact is this likely make?
And so on.
Note how most of these questions are likely to elicit a discussion, invite some perspectives, clarify a few things and provide the specifics. For the speaker too, it is not a bad idea to ask questions like these to individual members. A question as simple as 'what do you think about…' followed by questions on a similar tangent as mentioned above can encourage the listeners put their point forward.
Listening Skills:
However, great questions will not mean anything if we don't listen to the responses and not help taking the meeting in the right direction. While asking questions should be an important part of any meeting, it should not become a hindrance to the agenda.
Thus, it is important that the questions are asked with an intention to:
Get clarity about the agenda
To prevent taking unnecessary long detours
Avoiding potential loopholes and filling gaps
Make sure the speaker isn't missing out on any key detail
And not with an intention to:
Provide opinions that don't directly concern the agenda
Waste time
Assert power to fuel in office politics
While open-ended questions work great, there will be times when a simple yes or no shall be enough to provide the necessary clarity. At such times, it is best to let the meeting move forward and not try to come up with further questions just for the sake of coming up questions. The key is to ask questions that facilitate the movement of the meeting.