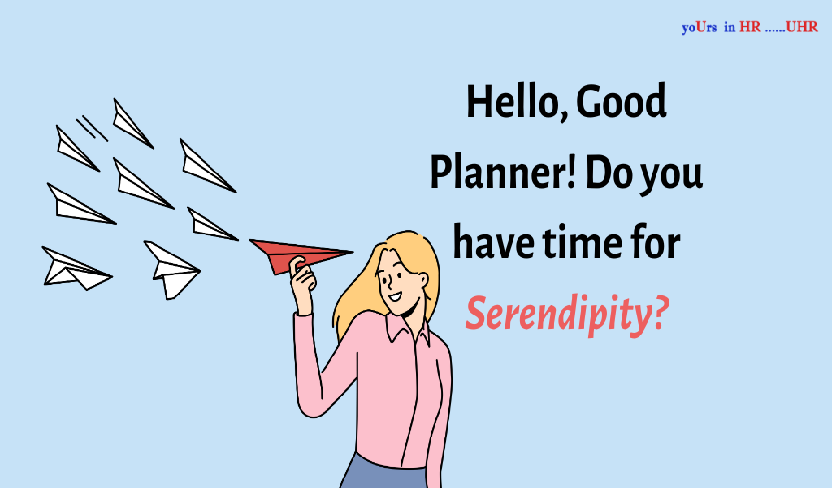 We like to plan. We are told planning is a good thing, and we must keep making new plans and keep updating our old ones.
We plan a project, we plan a meeting, we plan a pitch, we plan future goals, we plan about how to reach our present goals and we plan our career. We plan a holiday, we plan our 'me' time. We do short-term planning, and we do long-term planning.
In all this planning, life happens to us. As the famous line by the famous John Lennon goes:
Life is what happens when you are making other plans…
Planning is good. It helps us remain secure and prepared. It's a necessary activity which enables us to develop foresight and become good managers and leaders. It ensures a workable structure for the times when we might not know what to do, or when life throws its surprises at us. When we plan, we are being prepared for everything and anything.
In all this pressure to plan and be prepared, we sometimes forget to keep a little breathing space. A little breathing space for serendipity.
What is serendipity?
Serendipity is when the unexpected works in just the right way. Some people call it a 'happy coincidence'. Sometimes the events- unexpected ones -work out themselves without you having to do any planning.
Think of all those times when you gifted the exact thing the person needed without really knowing that the person indeed was looking for the very thing you gifted them.
The times when you were wondering how to contact a client and you received a connection invite from them instead.
The times when you may have chosen a different route for your commute and ended up having the client you were supposed to give a pitch to be your co-passenger.
These are some very simple examples, but serendipity can work out in much more complex ways, and that is where the need to keep that space for it to act out comes in. Serendipity works when we keep that 1% space for the events to unfold themselves. We have to let the ideas unfold themselves. After a point, there's a only so much planning one can do. The wisdom of sitting back and letting it unfold comes in handy.
Letting the Ideas Unfold on their Own:
A little insight from Paul Graham who wears multiple caps of an essayist, computer scientist, venture capitalist, investor and entrepreneur:
'The best new ideas always have unanticipated benefits.'
In other words, after a point, we must let serendipity do its job.
Good planning is necessary. We should try our best to chart out a good plan with all the contingencies but once an optimum level of planning has been achieved, we should just let things unfold on their own. Overplanning is the enemy here: planning too much leaves no space for improvising, adapting and things to fall into place. It leaves no space to change tracks or put on the brakes. Overplanning can make ideas crash.
How to let serendipity do its job?
Plan but don't over-plan: If you have ten steps charted out, but the eleventh step seems tricky, let it be, and let the ten steps do their work onto the eleventh step.
Be open to experiences: If a situation is not working the way you want it to work, and there's nothing you can do about it, be open to the supposedly different situation that seems to be unfolding. Say for example, if your interview or the client meeting did not go according to the plan, be curious and see what could happen next, instead of trying fruitless damage control measures like frantic calling or emailing for a fixed result. The 'alternate' results might surprise you, pleasantly.
A job you thought you would hate but ended up genuinely enjoying? A situation you thought had failed but once you gave up control, solved itself? Yes, that is serendipity doing its work.