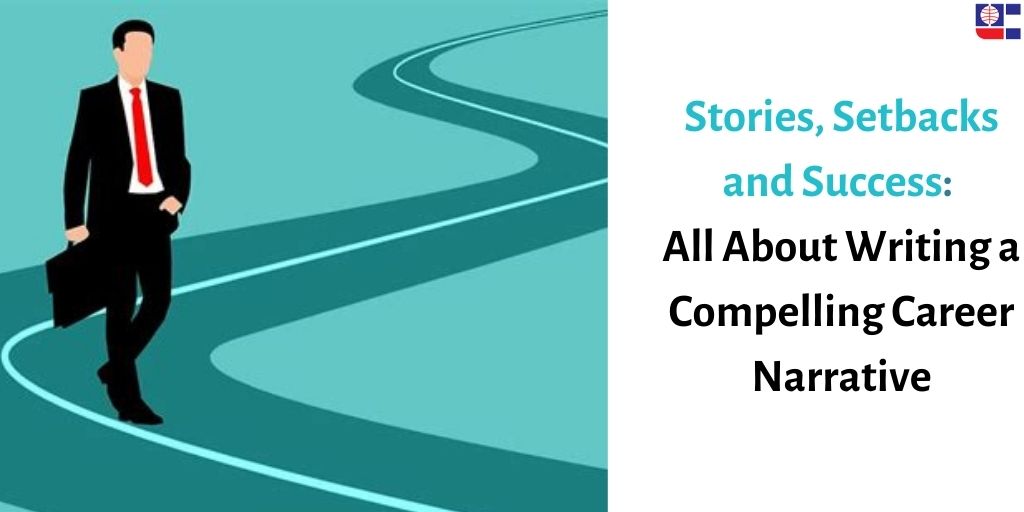 'Stories' dominate the way we tell others about ourselves. We select the important events of our day when someone asks us how our day was. We have a story about our career trajectory, past and future, planned in our heads, so when an interviewer asks us our plan for the next five years, we have the answer; when the interviewer asks why we left our older place of employment, or why they should hire us, we have an answer ready. We select the crucial updates from our careers and add those to the 'stories' in our resumes and interviews, as we have written in an earlier article, as a way of personal branding.
Storytelling in the professional world gets a whole new dimension with technology and the various online platforms: the way we write our LinkedIn introduction, the kind of posts we put up and choose to share tell one story. The website of a company, its mission statement, its brand image is the story told by the company about itself.
A few questions are likely to come up:
Why should we plan ahead instead of relying on our spontaneity?
How much should one include in the story?
Should one stick to the good parts only, or should one also include the setbacks?
Is it risky to add our setbacks in our story?
Read on, as we attempt to answer these questions.
The Compelling Power:
As Sharon Elber writing for Workbloom points out a compelling story, or narrative will help you write a compelling resume and cover letter. Recruiters may not have much time to spend in reviewing your application materials, and hence, a powerful narrative will help in making sure that your resume and cover letter quickly convey a clear picture of your qualifications as well your overarching career goals.
Of course, it is unlikely that someone will directly ask you "what is your career story?' in a job interview. Having a career narrative in your head will help in answering similar to it or indirect questions. Questions like:
Why should we hire you?
Why are you a good fit for this position?
It is also a great way to network as well as gaining some self-awareness about what you really want from your career. How?
Networking: As Elber points out, having a loose script of your career story prepared in your head is a great, confident way to start a conversation with new people, draw attention to your values, personal brand, ambitions in an easy-going way.
Self-awareness: Giving a narrative to your career will force you to think as to how the journey has been, and how you would want it to be in the near and distant future. This vision will in turn force you to take proactive steps rather than waiting for the next "low hanging opportunity".
Thus, a career story can tell not just about the important events of your career so far, but can also include a vision of your dream job, and how your career so far is a series of steps towards it.
The Tricky Question:
But anyone's career can't possibly have everything going perfectly for them, where every step was a step towards their dream jobs. We all fail, we all suffer setbacks, we all deal with uncertain situations that lead to sometimes unpleasant changes in our life, affecting our jobs. We can find ourselves faced with questions like:
Is it a good idea to include the 'bad' parts in your story?
How should one include the setbacks?
Owning It up: The answer to the first one is yes. We do need to include the bad parts. It's a matter of owning up your story as well as being honest. As one user in Mindtools' Twitter chat mentioned about whether adding setbacks in your story increases or decreases your vulnerability, "Having your story in the open and not covering it up means some will take advantage when they can.  But you are also stronger because you already know the details."
Inspiring others: Including the setbacks could also be a matter of inspiring others. Yolande Conradie writing for Mindtools says, "After years of working with people, I've learned that sharing parts of my story can be the lifeline someone else needs. Being brave and vulnerable enough to own your story, and courageous enough to change, can inspire and encourage others to do the same."
Thus, it's a matter of honesty as well as a way to make your story even more compelling and inspiring where you own up the setbacks.
The answer to the second question, closely linked with the first: How does one include setbacks, sudden changes, long gaps and such 'issues' into their narrative? Companies will need to know why and how your skills are still relevant, and why your recent lack of experience doesn't make you any less of a team-member
Framing It: The key lies in how you frame the narrative. The gap or shift should be framed such that it appears as "a part of your journey that led you to where you are now and where you are going." For example, did raising kids made you realise your passion for teaching? Did helping out a colleague to find a good fit for a position make you realise your talent for recruitment, and thus your decision to change directions? Such a framing which gives a sense that your setbacks too were steps that led you to some growth or new vision.
Thinking about your career in terms of a story is thus likely to help one and all gain perspective. It can enhance the quality of one's interviews, networking and other professional interactions. Owning up your story, with all its good and bad aspects can not only make your narrative compelling and interesting, but it helps you stand out from the overly positive and unrealistic ones. It rids us from the vulnerability that comes with hiding. Any success story is likely to include successes as well as setbacks. As academician and author Bene Brown writes:
When we deny the story, it defines us. When we own the story, we can write a brave new ending.