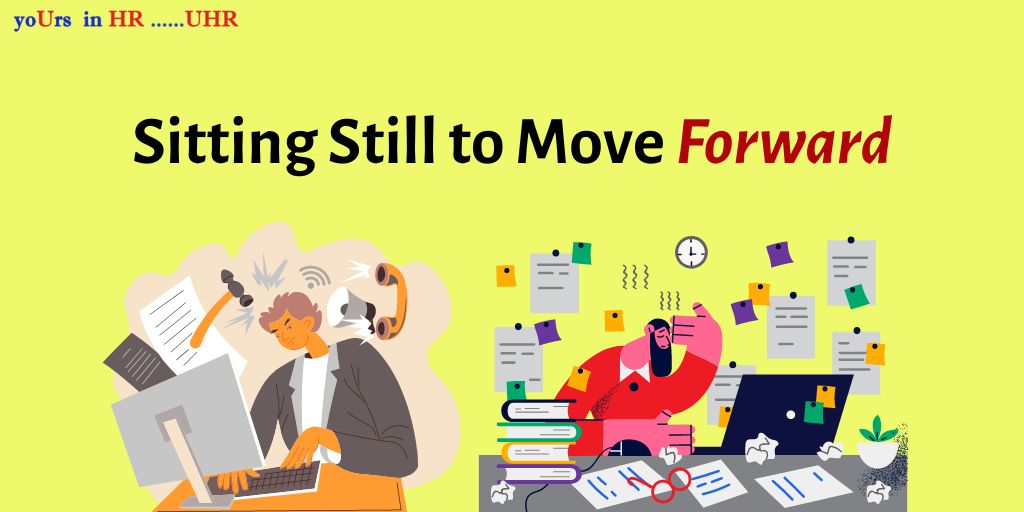 A workplace often gives us an imagery of activity. Phones ringing, papers shuffling, a few voices here and there, everything and everyone contributing to an active atmosphere. Meetings happen every now and then, symbolising movement, progress, brainstorming, dynamism, innovation. The modern culture today values this movement and innovation. New ideas, new ideas, better ideas! And somewhere, the value of stillness and focus is forgotten.
For anything to move forward, for any idea to be implemented well, a moment of stillness and focus is needed. It is indeed paradoxical that this stillness is sometimes necessary to implement the idea and take it forward. Let us quickly delve into this!
Repetition-Perfection versus Innovation:
Stillness also means the need to sit with something, and looking at it from all the possible perspectives, and repeating that if needed.
There is a Taoist wisdom that goes along these lines. Sometimes, we become so occupied with creating and thinking about something new, we forget to look properly at what is in front of us. Think of it this way- is it better to read multiple books, one after the other, almost behaving like it's a competition to see who reads the greatest number of books? Or is it better to read one book thoroughly, paying attention to the little details within it?
Is it better to read that book, as many times needed to get a complete understanding of it? Or is it better to skip from one book to another, without trying to understand it completely?
Sometimes, the situation demands that we pay attention to just one agenda so that it can be managed well. Sometimes the need is that we pay attention to preparing one decent pitch for that one investor, by studying their expectations, instead of trying to network relentlessly with everyone we meet. It is thus really important to understand the context and shift our focus accordingly. Correction- it is important that sometimes, the need is to not shift the focus.
Distractions + Innovation= Focus gone!
A recent survey of 1600 employees highlighted by the Harvard Business Review brought to attention that more than 60% of those employees admitted that they rarely are able to engage in deep focused work for even one or two hours without interruptions. There is always some distraction- whether it is emails, a meeting, a quick chat, and so on. The article goes on to give a scenario- an employee checks their long list of emails first thing in the morning. He responds to those emails one by one- most are small, manageable requests. Naturally, it would make him feel productive, as the inbox goes from unread to read emails.
But wait, there is this one big request that needs more time- it is a project proposal. He decides to work on the project proposal later during the day when he has more focus. Later, when he does sit down to work on it, a co-worker stops by to chat. And before we know it, it's lunchtime. After lunch, there's a meeting scheduled to brainstorm about the next project. Once the meeting is over, it's almost the end of the day, and so on…
The scenario or similar ones may not be entirely unfamiliar to us. Distractions are there. And add to that, we are encouraged to constantly move from one task to another. Rarely, it is mentioned that one must sit and work on a task. Rarely, that stillness to be on a task is encouraged.
It is here that people in leadership positions can turn that around.
Carving out Time, to give Time:
It becomes imperative for leaders, managers and others in such positions to ensure that equal importance is given to 'focused work time' as well. As an article by Growth Partners Consulting mentions-it is not just meetings and such 'dynamic' tasks that should have a special place at work- the time to sit with it and to work on tasks should also be paid equal importance.
It sounds almost obvious, but when we think about, we can't deny how much time is often gone in deciding the number of tasks to be done, and how little time to actually work on something remains.
Simple measures like reducing the number of meetings, setting a time-limit on the duration of meetings, setting aside specific hours or days for focused work, encouraging and modelling that behaviour can go a long way.
The pandemic reminded us the power and importance of being here and now. In one of our earlier articles, we recognised the importance of some 'slack time'. It is also about time we recognise the power and importance of sitting with the task. Slack time is when reinvention happens. And pausing everything else for a while to deeply work on a task is when the forward movement happens.